Topographic Surveys
From our offices in the London, the South East, and the South West we offer a wide range of topographic surveys to cater for the many needs of our clients.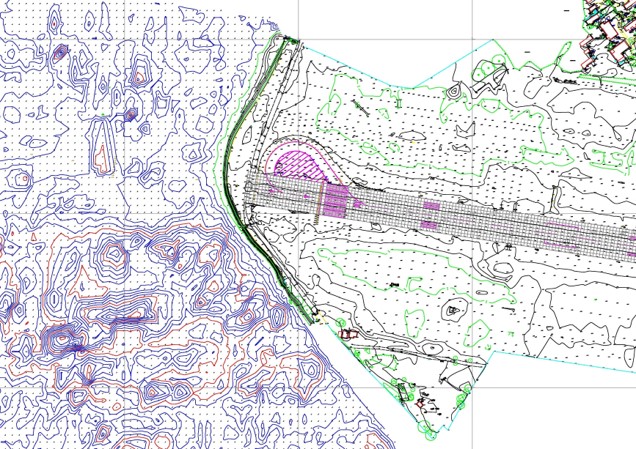 Our Topographic Services
Topographic surveys for planning and construction
UAV photogrammetric orthomosaic & mapping
Geodetic and topographical road alignment surveys using non-contact methods to restrict traffic disruption
Building alignment and control
Precise construction check surveys
Volumetric, hydrographic and drainage surveys
Pipe run and schematic surveys
Tree tagging and scheduling for management surveys
Feasibility surveys
River basin cross section measurement
Pre and post fill volume surveys
We provide a full suite of services to provide greater confidence to clients in underground utility detection, maintenance, and replacement.
Electronic detection of buried services
Ground penetrating radar
Remote visual surveys
Inspection chamber records
Interpretation of historical data
We now also work to the widely recognised PAS128 industry standard. This is a robust methodology for delivering utility surveys in the UK. It focuses on levels of accuracy – referred to as Survey Category Types – that you can specify when requiring a PAS 128 compliant underground utility survey.
There are four Survey Category Types ranging from D – A:
PAS 128 Survey Category Type D
Underground utility plotted from utility record data only (not detected by geophysical methods).
PAS 128 Survey Category Type C
Underground utility plotted from utility record data only, but with site reconnaissance to match utility record with physical utility street furniture as a best fit.
PAS 128 Survey Category Type B
Utility detected by geophysical methods (single or multiple) to obtain a horizontal position and/or vertical position. (Depth) For the positional accuracy of each QL-B sub category please refer to the Accuracy Diagram.
PAS 128 Survey Category Type A
Utility verified and positioned by physical identification. This may be by strategically positioned vacuum excavation, hand dug trail pitting or by visual inspection within a utility chamber.
What is 3D capture?
3D capture refers to the mass collection of spatial data beyond the tradition wire frame formats popular with building surveys. Spatial data can include:
3D position
Colour
Change over time
Surface data – digital surface or terrain modelling
How is 3D data captured?
3D capture is a growing field with new technologies coming forward constantly. Currently, we offer the following methods:
Colour laser scanners
UAV and land based photogrammetry
Vehicle based terrain capture
High altitude LiDAR and photogrammetry
Satellite LiDAR and photogrammetry
What are the benefits of 3D capture?
3D capture allows our surveyors to collect huge amounts of data in short periods of time from a remote position. The benefits include:
Increased speed of acquisition
Dense data
Colour & photo realistic data
Office processing
Flexible/changeable deliverable since most data is captured on site
Remote sensing reduces access issues
What format is 3D data delivered?
3D wireframe models
3D rendered models
Point clouds
Animated videos
Survey4BIM 3D Revit models compliant with PAS 1192-2
Why do you carry out structural monitoring?
Before we propose any sort of structural monitoring we work with the client to understand:
What is the structure
What are the load conditions
Are there any proposed changes to the load conditions
Are there any load conditions not planned for but carrying significant risk (known-unknowns
If any of the above test the structure beyond its design criteria, structural monitoring should be considered.
How do you do structural monitoring?
There are three main types of spatial monitoring:
2D planar sections
3D point monitoring
Surface monitoring
Taking into account the above type we use:
Digital level
Robotic total station
Scanner
UAV photogrammetry
Inclinometer
Liquid levelling system
Bespoke combination
I addition to spatial monitoring we provide various other systems for testing against:
What do you test against?
All data is fed into a database and tested against these thresholds:
Green – within normal conditions
Amber – consultation and potential action required
Red – Stop work and take immediate action
What needs structural monitoring?
Use cases might include:
Dock walls, gates & structures
Diaphragm walls
Running rail twist and cant
Coastal erosion
Rock face monitoring
Stock pile analysis
What is automated monitoring?
Automated monitoring is where equipment is setup and left on site in a secure and reliable manner. Most systems can be automated and generally, it leads to a more cost effective life span.
Data is reported wirelessly and presented at regular intervals through either a web interface or email files.
GNSS geodetic surveys
Establishing control
Historical checks
What is a measured building survey?
Measured building surveys are an accurate plan of all aspects of a building including structure, internal dividers, external fittings and M&E services.
What information is in a measured building survey?
Information collected for a building survey can include:
Floor plans
Ceiling plans
Roof plans
Elevations
Sections
Mechanical and electrical services
How is a measured building survey carried out?
Paul Fassam Geomatics always invests in the latest technology to reduce the time on site and improve deliverables. The technology we use to deliver cost effective building surveys includes:
Total stations
Scanners
Internal photogrammetry
360 Photogrammetry  globes for client visualisation
UAV aerial photogrammetry
Disto and tape measure
What data format is a building survey?
Depending on the client we produce a variety of outputs including:
2D floor plans
3D wire frames
3D rendered structure
Point clouds from scanning and photogrammetry
Otho-rectified photos with 2D wireframe overlay
All of the above are BIM ready where necessary.
River bed profiles
Pre & post dredging analysis
Silt monitoring
Construction & design surveys
Flood plain analysis
Channel modelling
Reservoir volume calculation

Multi-National Military & Civilian Airport Surveys

Boundary Surveys, Adjudication & Expert Witness
Topographic Surveys
From our offices in the London, the South East, and the South West we offer a wide range of topographic surveys to cater for the many needs of our clients.
Topographic Surveys in London, the South East, and the South West
Here at Paul Fassam, we offer topographic surveys in London, the South East, and the South West for any kind of planning and construction project, and as a trusted team of land surveyors, we complete detailed and accurate surveys for a diverse range of clients.
Thanks to our excellent reputation as highly skilled chartered surveyors, we can deliver a topographic survey that is reliable, accurate and fully tailored to your specific requirements, no matter what type of project this is for. Having many years of experience, we know that every project is different and each customer has unique requirements when it comes to a topographic survey, and this is why we establish what is required for the survey from the very beginning, before completing a highly-detailed plan that is full of information to educate you and help you understand your site.
Our topographic surveyors are highly skilled and offer a comprehensive range of services
We use the latest state-of-the-art equipment for all of our topographical surveys and provide this solution from our offices in London throughout the South East and the South West. As each project is different, we tailor the service depending on the site or your individual needs, deploying a wide range of equipment for accurate area mapping, including small unmanned aircraft, third-party piloted airplanes, and data capture using traditional laser scanners.
All of the surveys we complete are conducted with complete professionalism, and as skilled chartered surveyors, we can offer all of the following benefits for our customers:
• Site data captured with speed and accuracy
• Surveys tailored to specific client requirements
• Topographical surveys of professional quality standard
• Highly detailed surveys to support all planning, design or construction processes
• Use of latest technology
Paul Fassam is a leading land surveying firm and data capture is our passion, we take great pride in the level of our services and can provide you with the critical data you require for any site project.
Get in touch with our land surveyors for a flexible approach to topographic surveys
Here at Paul Fassam Land Engineering and Building Surveys, we can offer you a no-obligation quote for a topographic survey in London and always deliver a flexible and focused approach to any survey we undertake, regardless of the size or scale of the project.
If you would like to find out more, please contact us online today and get a quote, or call us for more information on +44(0)1752 907 355.